Extracted from Annual Report 2016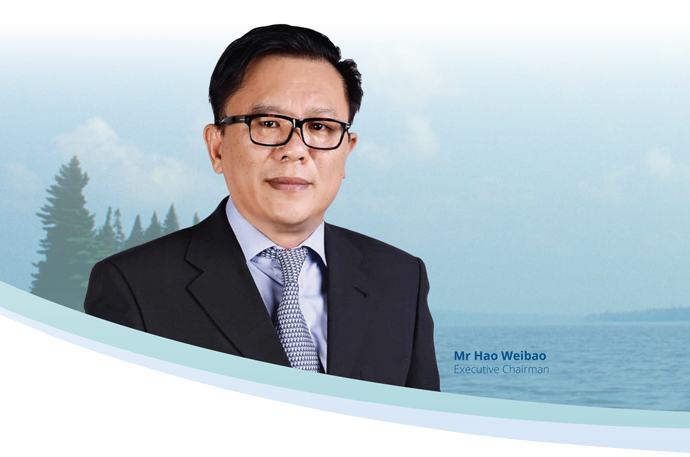 Dear Shareholders,
On behalf of the Board of Directors, it is my pleasure to present to you the report of CITIC Envirotech Ltd ("CEL", "Company", "Group") for the financial year ended 31 December 2016.
We are proud to announce that in 2016, CEL registered its highest revenue and net profit to-date. This strong performance is testament to the Group's ongoing pursuit to push new boundaries and break new grounds in the water and environmental sector.
In 2016, CEL witnessed a year of dynamic growth and expansion where key milestones were achieved when the Group secured new projects in river restoration, sludge and hazardous waste treatment. The Group also made good headway when it secured its first circular economy Public-Private-Partnership project in Shantou Chaonan, Guangdong Province, to provide a fully-integrated development project to achieve an efficient and self-sustainable economy within the Shantou Chaonan industrial park. The organic growth of the Company's business in these strategic areas is in line with the China central government's overall plan to push for more stringent environmental policies and directives to combat water pollution, improve water ecological protection and water resource conservation and treatment.
Under the One-Belt-One-Road initiative, CEL continues to expand its footprint outside China after securing 2 Build-Operate-Transfer ("BOT") projects in Indonesia to supply clean water to the population in Medan and Binjai cities. The Company is also making inroads into Pakistan and Kazakhstan, making progress to establish a foothold in the water sector in these countries.
In the area of capital structure, the Group continues to explore new and innovative funding options to lower its cost of funding in the local as well as overseas arena. In January 2017, the Company undertook a share split initiative to split every one existing share into two shares as well as conducted share purchase exercises. The Company believes that these initiatives will encourage greater participation, enhance trading liquidity for shareholders, mitigate market volatility and bolster shareholder confidence.
In the coming year, CEL will further leverage on its strong track record as a technologically-driven Company with solid core expertise to engage in strategic and more large-scale merger and acquisition activities to expand its asset portfolio. As CITIC Limited's strategic platform for all water-related businesses, this is an exciting and dynamic time for the water and environment industry, and the Group is confident that it is well-equipped to capture the extensive opportunities available for growth in the sector.
APPRECIATION

On behalf of the Board of Directors, I would like to thank our shareholders, customers and business partners for your continued trust and support for CEL. To show our appreciation to our loyal shareholders, the Board has proposed a final dividend of 0.75* Singapore cents and a special dividend of 0.25* Singapore cents per ordinary share for the financial year.
I would also like to extend my heartfelt thanks to our Board of Directors, the management team led by Dr Lin Yucheng, Group Chief Executive Officer and all the staff for their unwavering dedication and hard work rendered during the year.
Yours Faithfully,
Mr Hao Weibao
Executive Chairman